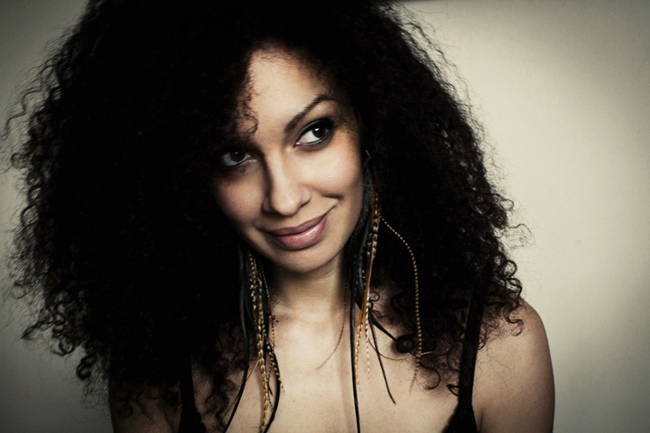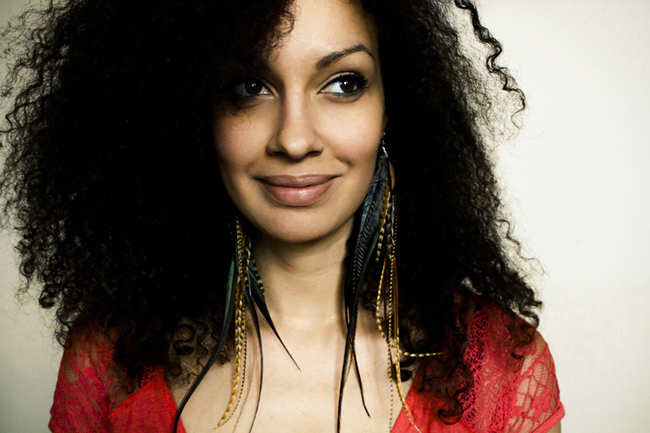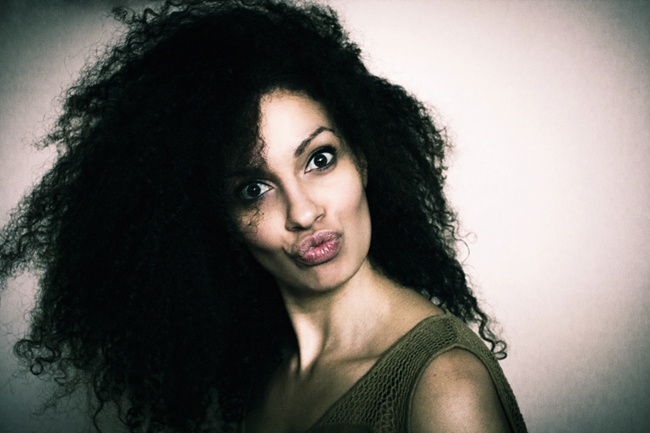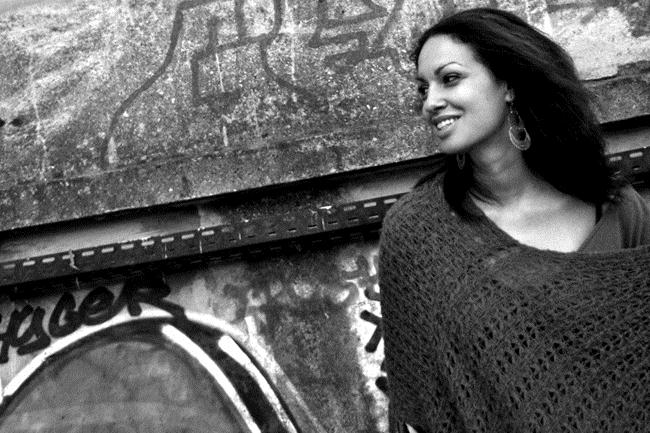 "I find through art the same thing I find through nature – connections. Connections to myself, to others, to life, to the truth. I think life is about observing, experiencing, and learning, so I observe, experience and learn. I always try to find the root of everything, the why, the how. It allows me to see beauty in all things. In order to accept an event, a person, or even your hair, you need to observe and to understand. I believe there's a reason for everything. Everything is how it is supposed to be. Therefore, I'm exactly how I'm supposed to be, from hair to toe.
I recently started my blog, Tall N Curly, where I'm having fun drawing little comics about curly haired and/or tall girls. I am both! I express myself through several forms of art like writing, drawing, music, photography and I'm a nature lover. I like to observe it and to take care of it. I'm a shelter on my own, always bringing back home little helpless birds or cats I found somewhere.
I chose to go natural firstly because relaxing my hair annoyed me. It cost me time and money, and the result wasn't even close to what I wished it would be. It only made styling my hair easier, but I didn't think it was pretty, and the day I accepted that the straighter it could be would never look half as good as a naturally straight hair, I thought maybe it was time to just let go. In a way I gave up. It might be the only time in my life I'll ever be able to say giving up on something was a good thing. Secondly, I don't like chemicals. I try to use natural products in my everyday care and to eat healthy. It simply made no sense to do all of this and to end up putting these strong and dangerous products on my head.
I usually wash my hair every three or four days with some conditioner and I shampoo twice a month. If it's a busy week, I'll wake up, tie my hair up in a bun and go on with my day. I can wait up to five or six days before washing it, but if I wait longer, it will get so tangled I will have to spend 45 minutes in the shower detangling it and I don't have time for that. I don't really have a day-to-day hairstyle. It depends 100% on my hair's mood of the day. If it's acting kind of cool, happy and all, I'll let it loose. If it feels psycho, I'll tie it in a bun. If half of my head is cool – generally the bottom part – and the other half is acting psycho – the part on top – I'll fight the hysterical part of my hair and tie it. Then there's always the paint brush solution. I find it very practical to just tie half of my hair up with a long paint brush (if I didn't have that much hair I would use chopsticks or a pen). Sometimes I just forget about it and here I am walking in the street with a paint brush on my head. Who knows, maybe it will become very fashionable someday.
I'm still looking for my favorite hair products but I like using oils, honey, eggs, the brazilian brand Seda's green line, Pantene Pro-V Smooth and Sleek conditioner, Bumble and Bumble Curl Conscious Calming Creme and Kerastase's Oleo Relax line. I use several types of oils for almost everything. I think they're the miracle products every woman is looking for but few pay attention to their power. I use oil to remove my make up and hydrate my hair. I use several cold pressed oils to hydrate my skin at night and in the morning. A friend creates some specific mixes for me, and I add some essential oils to it depending on what kind of treat I want to give to my skin. She's the one who taught me about that in the first place. Every person I know who has started to take care of her skin with oils said goodbye to pimples, dryness and greasiness. Then of course I also use oils for my hair, wether it is as an oil bath the night before shampooing or to tame the ends of my hair when I'm desperately trying to style it. Jojoba, argan, olive, avocado, hazelnut, coconut, sweet almond and prickly pear oils are a girl's best friend.
I almost always and only focus on my eyes when putting make up. I barely wear lipstick. I'll use discret glosses instead. I love Guerlain Terracotta Loose Powder Kohl Liner. It's the closest you can find to real, traditional khol. It comes in a beautiful little bottle, with a stick you dip in the powder before applying it to your inner lid. The result is strong yet subtle. Not as intense as black crayon. And I don't know if because I love it so much I try to convince myself of this, but I really get the impression that when I wore black crayon I was redoing the line again and again all through the day, which I don't have to do with this powder.
I understand when girls with curly/kinky/nappy hair relax their natural hair. I understand because it's complicated and sometimes expensive to take care of this kind of hair. I don't judge girls who relax their natural hair, it can turn out very pretty when it's done right. I'm not the naturalista-power-dictator kind of girl. On the other hand, I find curly/kinky/nappy hair not only beautiful, I find it magical. This kind of hair is strong in essence. It's the root. The origins of hair. It's a force of nature. It looks like there are magical powers in it. There's something magical about a woman who walks proudly in the street with this big, voluminous, "do-you-have-something-to-say?" hair. She walks on top of the world. She couldn't care less about what people think or say. She couldn't care less about what beauty ideal magazines are trying to sell her. She's not discreet. She does not hide. She is there. She IS. And to have the courage and the pride to BE who you are, under everybody else's eyes, that's magical.
I also tend to find that a curly girl is always prettier when she wears her hair curly. Simply because it's her true self. How could it be better than that? She can be pretty with her hair straightened too. I blow-dry my hair sometimes and I like the way it looks. But I always end up being in a hurry to go back to my curls, and right after I've washed my hair, seeing my curls living again in the mirror gives me the feeling I'm back to my true self.
If a girl relaxes her hair, I respect her choice. But if I see the tiniest shadow of a doubt in her attitude, the kind of, "I'd like to go natural but I'm afraid of what other people may think," I'll definitely encourage her to stop putting dangerous chemicals on her head and to walk the path to learning to love herself in spite of others' opinion. And to walk that path, you have to learn to love or at least accept every single thing about yourself. The curls are often a big part of the journey.
Recently a 17 year old girl wrote me asking for my advice. She had decided to go natural but her cousin – who did use relaxers – was telling her she now looked like a savage and that she should go back to relaxing because she would never find a boyfriend with her natural hair. She was about to enter college so I used that as a metaphor in order to make my point. I told her she should actually consider her natural hair like a degree too. Do you realize all the steps you have to go through, all the things you have to learn about your hair, about yourself and about others only to get to the ultimate result of being yourself and loving you that way?
For decades women have been taught to think that there was only one way to be beautiful, and there they are, buying products every day, constantly spending money to achieve an impossible ideal of beauty. The thin long straight and shiny haired woman is the trophy waiting at the end of the race, and while most women are running down the road, convinced they can win it, they only see it moving backward, again and again. And they run, and they run… and they spend money, and they poison themselves with thousands of chemicals (the ones in relaxers are the worst by the way) and they keep their eyes on the trophy, totally forgetting to take the time to look at themselves. They love the trophy so much already, they want it so badly that they simply cannot love or want themselves anymore. They think they can only start to love themselves on the day they win that trophy. Problem is, 99.9% of these women will never win it, therefore they will be unhappy through all their life, if they don't learn to love and accept their face, body, hair, you name it. What every woman should be taught from childhood is that the real trophy, the real degree in happiness is to LOVE HERSELF THE WAY SHE IS. For any curly/kinky/nappy woman, loving her natural hair is way beyond an aesthetic choice. It's her degree. It's her trophy. It's her, winning. Every woman needs to get the "I love myself" degree so none of what other people think or say can matter anymore.
My husband has always encouraged me to stop trying to change whatever it is I came on earth with. I think the most powerful and efficient product you can put in your hair is L.O.V.E.. Isn't that cheezy? But it's true. Wether it is your own or the one of someone you love, when you spray love onto your hair, or onto any of your feature, unless you're a very negative person you'll end up loving it and feeling great about it. Try love. The best and cheepest beauty care solution." – Cheyan
Find Cheyan on her blog.
SHOP THE STORY
THOUGHTS? HAVE YOUR SAY!